Jr. 76ers Academy: Overnight Camp Experience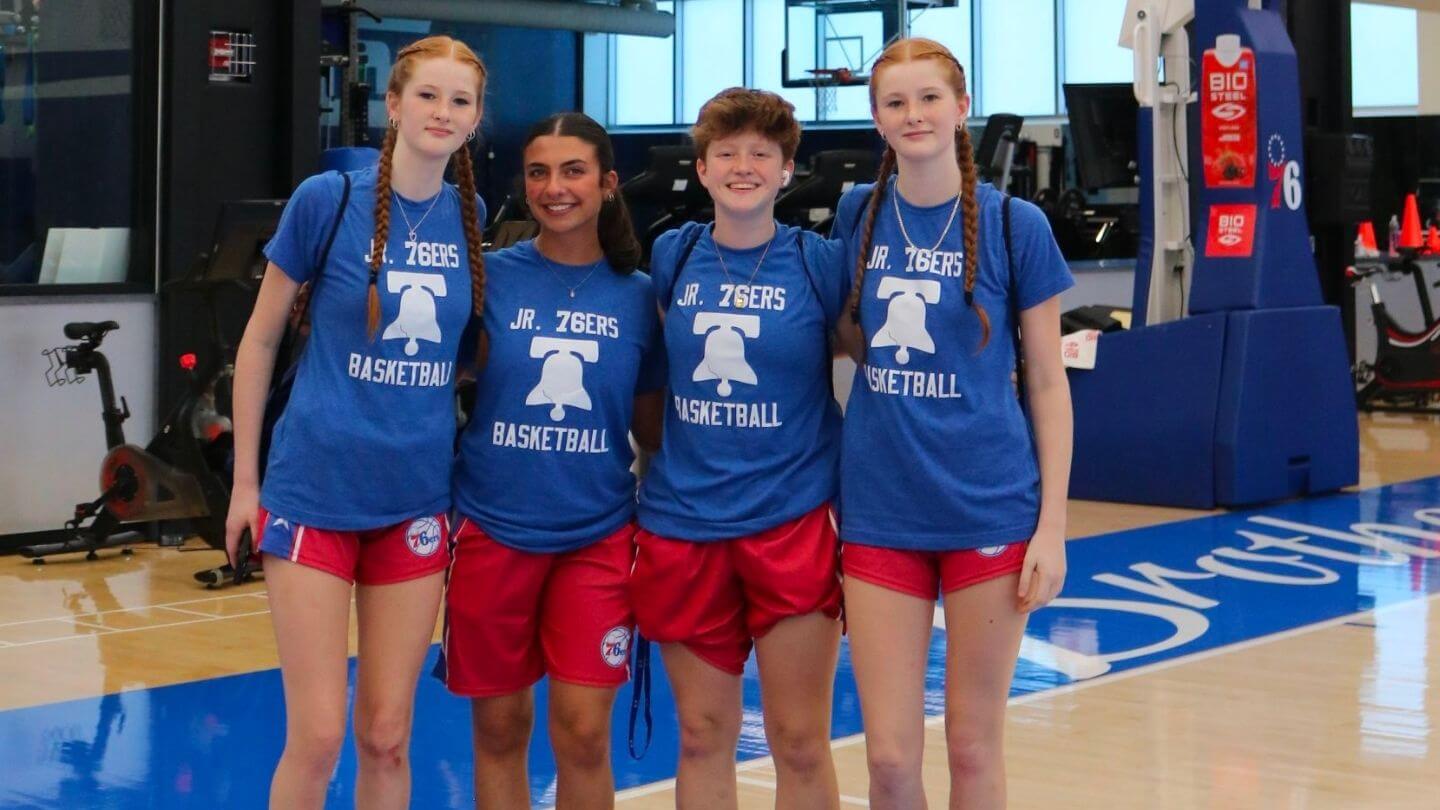 Early Bird Discount
Sign up by February 15, 2024 and get a $25.00 discount off your tuition.
Discount applied at enrollment.
Discount does not apply to Jersey Shore locations.
Jr. 76ers Academy is located at Neumann University located in Aston, PA. Academy is based on fundamentals and skill development for boys and girls, ages 10-17. Each summer, players of all skill levels attend from all over the world. Players practice the drills the pros use and develop key techniques on and off the court by learning cutting edge skills in a fun, positive and competitive environment.
Take your game to the next level with Jr. 76ers Academy – the #1 Overnight Camp in the NBA!
2024 POLICY
Please note, medical insurance cards are required for each player.
Each week runs for 6 days of teaching, fundamentals and skill development, as well as 2-3 games daily.
Our Aston, PA location is just 30 minutes from Philadelphia, 2 hours from New York City and 3 hours from Washington, DC.
Need more information about the Jr. 76ers Academy? Call us today at 610-668-7676 or check out our Frequently Asked Questions.
Improve Every Part of Your Game.
Here's What You'll Learn.
Ball Handling
Learn how to protect the ball, set up plays, shake your defender, and drive to the hoop.
Passing
Find assists and learn how to set up a play. Plus, we'll show you how to reduce turnovers with smarter passes.
Offense With and Without the Ball
Learn what to do with and without the ball.
Shooting
Find your stroke or improve it during shooting clinics with the finest marksmen and shooting specialists in the NBA.
Rebounding
Find out how to claim your space under the boards and learn what to do once you get there.
Defense
Learn the ball-you-man Principle and how to play team defense.
Character Development
Learn the character muscles that make you a great player on and off the court.
Movement
Learn to improve your athleticism, balance and coordination.
Important Details
Please note, medical insurance cards are required for each player.
Experienced, adult staff live in the dorms and provide 24/7 coverage.
Rooms are suite style with two bedrooms that will accommodate two players in each room. Each suite has a shower, bathroom and sink.
Indoor and outdoor basketball courts, with the majority of play being held in indoor air-conditioned facilities.
Limited enrollment.
Daily leadership and character development.
College dining service all-u-can-eat healthy buffet style menu.
Nearest airport is Philadelphia International Airport (PHL).
Sample Day
7:30 a.m.
Rise and Shine
8:00 a.m.
Breakfast
All meals are served in our spacious dining center, Bruder Hall. Buffet style all-you-can-eat nutritional menu. Hydration station and cereal bar available at each meal. Each meal includes a variety of options to accommodate special dietary needs.
9:00 a.m.
Morning Meeting
Each morning, players meet in the Mirenda Center to get their instruction for the day, daily schedule, and to reinforce the character virtue of the day.
9:15 a.m.
Stretching & Warmup
9:30 a.m.
Fundamental Skill Development Stations
Eight-minute instructional stations with our coaching staff include lessons on ball handling, rebounding, passing, and shooting. We maintain a low camper-staff ratio so that each camper gets the individual attention they deserve.
10:30 a.m.
Team Practice
All players are placed on teams, with approximately 10 players per team. Teams compete in a series of league games, followed by a Championship tournament each week.
11:00 a.m.
League Games
League games give players the opportunity to compete in a game setting and reinforce the skills learned throughout the week.
12:00 p.m.
Lunch
1:00 p.m.
Break
2:30 p.m.
Afternoon Meeting
2:45 p.m.
Stretching & Warmup
3:00 p.m.
Advanced Action Stations
Stations to introduce and teach advanced skills, such as: offensive actions, team defense, pick & roll, press break, and more.
4:00 p.m.
Jr. 76ers Skills Challenge
5:00 p.m.
League Games
6:00 p.m.
Dinner
7:30 p.m.
Residential Activity
Players will engage in different residential activities including sand volleyball, skills competitions, ultimate frisbee, and 3-on-3 tournament.
9:00 p.m.
Evening Snack
Snack is optional, for an additional fee, and served nightly in our residence hall, O'Neill Hall.
10:30 p.m.
Lights Out